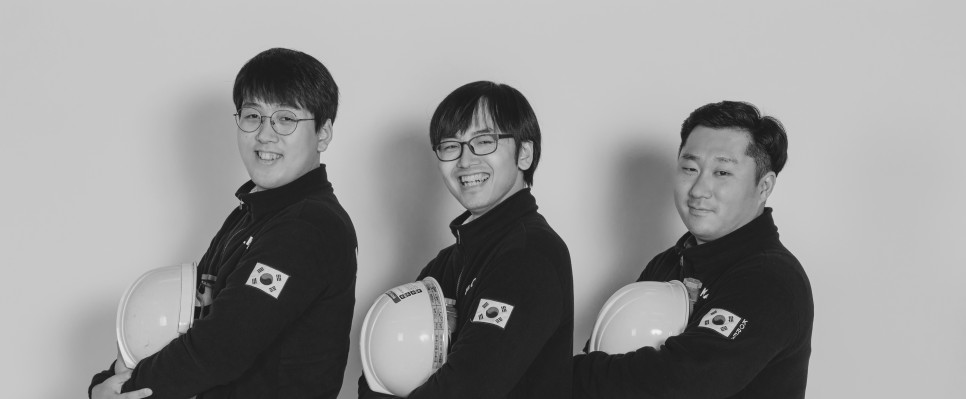 What kind of work does the R&D(Research & Development)Team do?
The R&D team designs and develops systems that acquire useful data, analyze and refine it, and deliver it correctly to cloud servers, primarily through sensors and devices installed on the site. In addition, we are focusing on research and development of next-generation industrial IoT solutions that incorporate AI technology.
Please tell us slogan of the R&D team and the meaning of the slogan.
Man proposes, God disposes
"Do what you have to do as an engineer and wait for orders from the field." It's a slogan that expresses the fate of the R&D team, which must deal with such a colorful and barren field environment and various obstacles that may arise at any moment.
I'm curious about the work of the R&D team members.
Song Yong-seok (Team Leader): As a general manager of R&D, I am responsible for overall solution development. I'm working on a full draft of the system I'm developing, and I'm developing an early-stage application server. I enjoy acting so goofy lately that my team members glare at me, but I don't care.
Kim Seung-woo (Senior Researcher): I am a Musma Python representative engineer. I research on AI-integrated technology and I oversee developing and maintaining Python-based field applications.  As the King of Musma Mathematics, I can take lessons from beginner to advanced level.
Sung Eun-gi (Senior Researcher): I'm a Musma C# representative engineer. I'm responsible for the development and maintenance of the Windows desktop applications used in the field and the Android mobile applications. As a Musma scenario king, I'm a player in catching possible exceptions.
What are the required skills and recommended capability for the team?
The safety management solution has different requirements for different customers and sites, so there is a limit to fully stereotyped. Therefore, we always need the ability to respond flexibly to open thinking because it is often necessary to redesign the best solution depending on given environments and problem situations or change the existing plans.